*Examination of Headaches, Vertigo, and Cervical Spine Sprain and Strain (Bhogal, online 2020)
Overview
This 4 hour presentation is designed to help practitioners identify common headaches, types of dizziness, and sprain/strain of the cervical spine through clinical history taking and examination.  Clinical signs and symptoms will be reviewed and emphasis will be placed on how to differentiate one presentation from the other during examination.  Attendees will walk away with the confidence to identify and better care for patients with these clinical diagnoses.
Learning Objectives
Upon successful completion of this seminar, participants will be better able to:
identify the 4 most common headaches seen in clinical examinations;
differentiate between the 4 most common headaches seen in clinical examinations;
identify the 3 most common vertigo types seen in clinical examinations;
differentiate between the 3 most common vertigo types seen clinical examinations; and
identify and better direct management with cervical sprain and strain.
Online CE at Life West is simple and engaging.
Check on the right of this screen or under the CREDITS tab to see if the seminar is approved for CE in your licensure state(s).
You must be logged in to your Life West CE account in order to access the seminar. Click on the REGISTER tab to register and begin.
The seminar consists of video, readings, and one or more quizzes.  You do not need to complete the seminar in one sitting, and you may return to it at any point.
Once in the seminar, follow the MENU of steps on the left side of the screen. Click through the steps to move through the program.
When you have completed the evaluation, you can PRINT YOUR CERTIFICATE yourself, on the spot.  
Questions?  Call us at 510.780.4508 or email conted@lifewest.edu.
Hour 1:  
Introduce concepts relative to history taking, examination, differential diagnosis, clinical impression and the different types of diagnostic approaches.
Discuss 4 common headaches with clinical signs and symptoms

Tension
Cervicogenic
Migraine
Cluster
Hour 2:
Finish up 4 headache types
Present and discuss types of dizziness/vertigo with clinical signs and symptoms

Central vs Peripheral
Cervicogenic
Benign Paroxysmal Positional Vertigo
Meniere's
Hour 3:
Review clinical cases to reinforce differentiation between headache types
Review clinical cases to reinforce differentiation between vertigo types
Present the clinical signs and symptoms relative to cervical sprain and strain
Hour 4:
Discuss common mechanisms of injury with cervical sprain/strain
Present the clinical sequelae associated with cervical sprain/strain and what to look for in examination
How to better identify if one or both are the presenting concern in patient care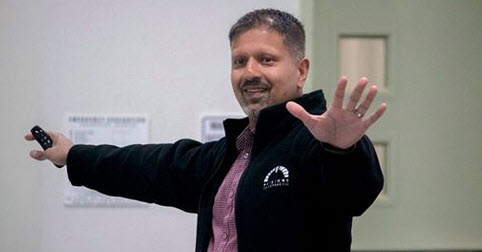 RAMNEEK BHOGAL, DC
Dr. Ramneek Bhogal completed his undergraduate work at the University of Nebraska and is a 2002 graduate of Palmer College of Chiropractic. He has been an Associate Professor at Palmer, and Chair of the Technique department at Life Chiropractic College West. As a Diplomate of the American Board of Chiropractic Internists (DABCI) and a Functional Medicine practitioner, his focus in practice is managing patients with complex presentations like fatigue/stress/hormone imbalances, digestive dysfunctions, and immunity challenges. He teaches functional medicine/wellness concepts at a post graduate level to other healthcare providers and often presents at professional conventions and international symposia. He is the co-founder of Peak Potential Outreach, providing integrated health services to the underserved at home and around the world.  He enjoys practicing, spending time with his family, and traveling.
See below for a list of credits that may be available for this seminar. 
Life Chiropractic College West is accredited by the CCE and the Western Association of Schools and Colleges (WASC).
*The following State and Province chiropractic boards do not require an application when a program is sponsored by a college accredited by the Council on Chiropractic Education (CCE): CO, CT, DE, DC, ID, IL, IA, MD, MA, MI, MT, NE, NJ, OH, OR, RI, SC, UT, VT (no philosophy), VA, WA, WY. Life Chiropractic College West cannot guarantee that any session of this offering will be accepted by these licensing board(s). Life West urges licensees to familiarize themselves with the laws governing continuing education in the jurisdictions where they hold licensure.
Full cancellation policy at ce.lifewest.edu/about.
Available Credit Hours
4.00

AK Chiropractic Board

Alaska Board of Chiropractic Examiners

4.00

CA Chiropractic Board, Category A Exam/Adjust/Billing

California Board of Chiropractic Examiners, Category A Exam/Adjust/Billing

4.00

CO Chiropractic Board

Colorado Board of Chiropractic Examiners

4.00

CT Chiropractic Board

Connecticut Board of Chiropractic Examiner

4.00

DC Chiropractic Board

District of Columbia Board of Chiropractic

4.00

DE Chiropractic Board

Delaware Board of Chiropractic

4.00

HI Chiropractic Board

Hawaii Board of Chiropractic Examiners

4.00

IA Chiropractic Board

Iowa Board of Chiropractic

4.00

ID Chiropractic Board

Idaho Board of Chiropractic Physicians

4.00

IL Chiropractic Board

Illinois Medical Licensing Board

4.00

IN Chiropractic Board

Indiana Board of Chiropractic Examiners

4.00

KS Chiropractic Assoc

Kansas Chiropractic Association

4.00

MA Chiropractic Board

Massachusetts Board of Registration of Chiropractors

4.00

MD Chiropractic Board

Maryland Board of Chiropractic Examiners

4.00

ME Chiropractic Board

Maine Board of Chiropractic Licensure

4.00

MI Chiropractic Board

Michigan Board of Chiropractic

4.00

MN Chiropractic Board

Minnesota Board of Chiropractic Examiners

4.00

MT Chiropractic Board

Montana Board of Chiropractors

4.00

NC Chiropractic Board

North Carolina Board of Chiropractic Examiners

4.00

ND Chiropractic Board

North Dakota Board of Chiropractic Examiners

4.00

NE Chiropractic Board

Nebraska Board of Chiropractic

4.00

NJ Chiropractic Board

New Jersey Board of Chiropractic Examiners

4.00

NV Chiropractic Board

Nevada Chiropractic Physicians' Board

4.00

OR Chiropractic Board

Oregon Board of Chiropractic Examiners

4.00

PACE

FCLB Providers of Approved Continuing Education

4.00

RI Chiropractic Board

Rhode Island Board of Examiners in Chiropractic

4.00

SC Chiropractic Board

South Carolina Board of Chiropractic Examiners

4.00

SD Chiropractic Board

South Dakota Board of Chiropractic Examiners

4.00

TN Chiropractic Board

Tennessee Board of Chiropractic Examiners

4.00

UT Chiropractic Board

Utah Chiropractic Physicians Licensing Board

4.00

VA Board of Medicine

Virginia Board of Medicine

4.00

VT Chiropractic Board

Vermont Board of Chiropractic

4.00

WA Chiropractic Comm

Washington Chiropractic Quality Assurance Commission

4.00

WY Chiropractic Board

Wyoming Board of Chiropractic Examiners